Plastic is an enormous environmental issue when it comes to our beauty and care products. Whether it is about plastic packaging or microplastic ingredients, they contribute to the increasing plastic pollution problem we face today. Today, on Plastic-free Beauty Day, let's take a look at the current situation and see why it is essential to talk about the use of plastic by the beauty sector.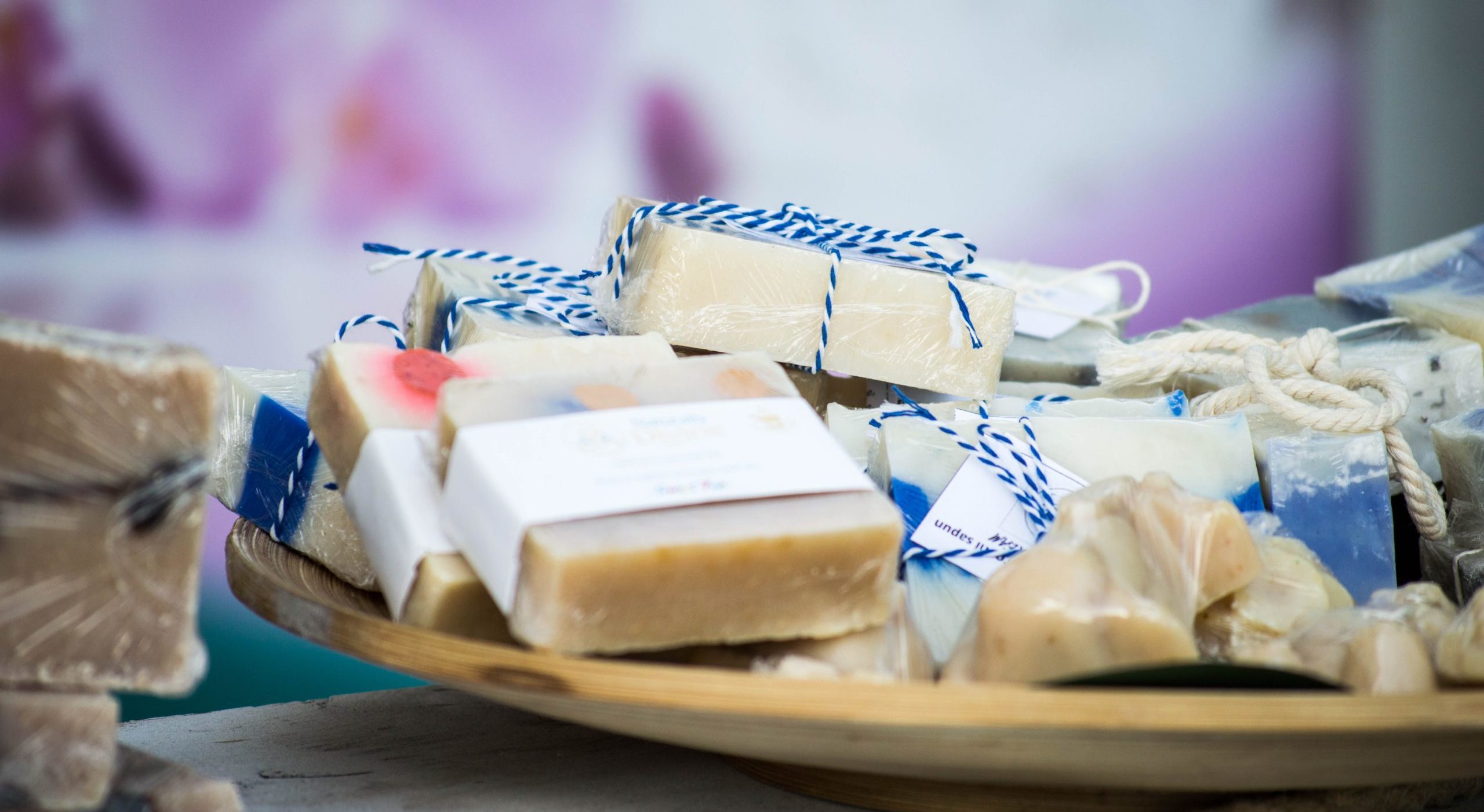 Why do we need a 'Plastic-free Beauty Day'? 
Every year, thousands of tonnes of microplastics wash down our drains into the environment. To put the pollution in perspective, we tested a 50 ml bottle of anti-aging cream and found that it contained about 1.48 million polyethylene particles. And that's just one product. Now consider the amount of microplastics used in the wide variety of cosmetics and care products, the pollution becomes unimaginable. This is only what's inside our products.  
The norm is to pack beauty products in plastic. Annually, the beauty industry produces more than 120 BILLION units of packaging globally. Only 9% of all plastic waste ever produced has been recycled, and about 12% incinerated and all the rest — 79% — ended up in landfills, dumps, or the natural environment. When it comes to beauty packaging, 95% of it is thrown out after just one use, and only 14% of plastic makes it to a recycling center. Considering these figures, you can imagine what might be happening to the packaging of your personal care and beauty products.   
Plastic lasts forever. All plastic ever made still exists in some form. Figures like this bring out the urgency to focus on the consequences of plastic we use. It is vital also for the cosmetics industry to reflect on their plastic use. This is the reason why we need to talk about 'plastic-free beauty.'   
Brands that are walking the walk… 
There are many alternatives available to plastic packaging: glass and aluminum are some excellent examples. We must look for a closed-loop circular solution: where materials can be infinitely used and recycled over and over again. Reuse should be one of the relevant 'R's' for consumers and producers alike. Only then can we envision a waste-free economy.   
In the case of microplastics, many brands are doing exceptional work on keeping their ingredients entirely plastic-free. As part of the Beat the Microbead campaign, we certify brands that do not use any microplastic ingredients. So far, we have already certified over 75 brands worldwide, such as Weleda and ANNEMARIE BÖRLIND.   
Some brands are leading the plastic-free beauty revolution by not only talking the talk but also walking the walk. Here are some of the brands from our 'Zero Plastic Inside' certificate community that are changing the game:  
1. UpCircle

 

Beauty

Creating a positive environmental impact is at the heart of what UpCircle Beauty does. They wanted to create a brand that had a purpose beyond profit. Being waste-free is central to their brand values. This brand believes that "natural" is the new "normal" – so they go a step further with their waste-fighting formulations. Their skincare formulations have saved literally hundreds of tonnes of valuable ingredients from ending up in landfills.  

Co-founder Anna Brightman says that "The world has a serious problem with plastic. The beauty industry – glamorous as it maybe – is a major contributor. Last year it was reported that 120 billion units of packaging are produced every year by the global cosmetics industry, bulked out by the use of complex lids, multi-layered boxes, and cellophane, much of which is superfluous, non-recyclable and ends up in our landfills and oceans. The packaging across our range is 99% plastic-free, and we offer plastic-free refill options for the 1%."  

Learn more about UpCircle Beauty here!  

2. Beauty Kitchen

Last year Beauty Kitchen started the Reuse Revolution with its brand. A proud holder of the 'Zero Plastic Inside' logo, Beauty Kitchen is here to change the status quo of the beauty packaging. Almost all of their products (the ones with the 'Return · Refill · Repeat' stamp) can be sent back to them to wash and reuse in the next batch. This means, instead of going to landfills, not being recycled or using up energy to recycle, they can start the lifecycle of their packaging all over again.  

Jo Chidley, the founder of the brand, believes that "When it comes to plastic-free beauty, we need to think about the product in its entirety. This means that the environmental impact of a product's ingredients, as well as its packaging, must be considered. It's not enough to stick a 'recyclable' logo onto a product but not consider the thousands of microplastics inside that are just as damaging to the environment."  

Learn more about Beauty Kitchen here!  

3. Neal's Yard Remedies

You might recognize them by their core range that is packed in blue glass (jar or bottle). They're taking steps to avoid packaging altogether where possible, for example, encouraging customers to bring their containers for refills with a discount and two of their most loved products, Geranium & Orange Hand Wash and Bee Lovely Bath & Shower Gel can now be refilled.

NYR also runs a recycling returns scheme in conjunction with Terracycle, whereby customers can return packaging components that are not commonly collected through UK home recycling collections such as sachets and pumps. They collect these in their stores and then, send them to Terracycle to process and recycle.  

Louise Green, Head of Ethics & Sustainability, says that "We believe that beauty care should always be plastic-free. With the vast array of natural and organic materials available, choosing ingredients that are not only effective but that also care for both person and planet is paramount."

Neal's Yard Remedies is a certified 'Zero Plastic Inside' brand since 2016. Learn more about Neal's Yard Remedies here!  

4. BYBI

 

Besides being certified for having microplastic-free ingredients, the packaging is perhaps the most obvious of their sustainability endeavors. It's important to note that their approach to packaging is far from perfect. Still, they're at the forefront of innovation, meaning that as soon as materials or solutions become available, they're ready to adopt them.   

That being said, 70% of BYBI's packaging is made from glass. The labels are printed directly onto their glass rather than adhesive labels, which makes recycling of these glass bottles more optimal. They also use a bioplastic material derived from sugarcane, which they believe is a more sustainable alternative to standard PET. The material is by no means perfect, but it's the best solution for them at the moment.   

97% of BYBI packaging is recyclable. Detailed information on how to recycle each component of their packaging can be found on the individual product pages.  

Learn more about BYBI here!  

5. Skin W/O

 

At Skin W/O (without), they consider the impact of every decision they make. They work with conscientiousness to provide skincare products that are W/O plastic, W/O harm, W/O chemicals, W/O cruelty, W/O boundaries.   

Their bottles and tins are made from 100% recycled aluminum and printed with enamel (glass). Their lid liners are made of silicone and are 100% recyclable and reusable.  

Taking extra care when delivering their products, they pack them in a 100% wool felt bag that is reusable and biodegradable.   

Co-founder Jen is of the opinion that "the responsibility of creating skin health products that work W/O plastic is a commitment we have undertaken as a company. True beauty is not at the expense of the earth or its inhabitants. True beauty is about making beautiful decisions. Deciding to be plastic-free with your skin health is a decision you can feel beautiful about every day."  

Learn more about Skin W/O here!  
Quick actions you can take for Plastic-free Beauty Day:
*Plastic-free Beauty Day is launched by self-proclaimed 'accidental activist' Yolanda Cooper, who discovered the real nature of the problem through creating her very own sustainable hair brand. Every year on the 17th of June, the aim is to raise awareness and educate about the plastic waste generated by beauty products. For more information, visit www.plasticfreebeauty.org.